WBS

Merge Menu

There is a new menu on the action pane called Work Breakdown Structure Merge – from where the Work Breakdown Structure Merge form will open. The activities that are created on the Work Breakdown Structure Merge form will be available on this new form.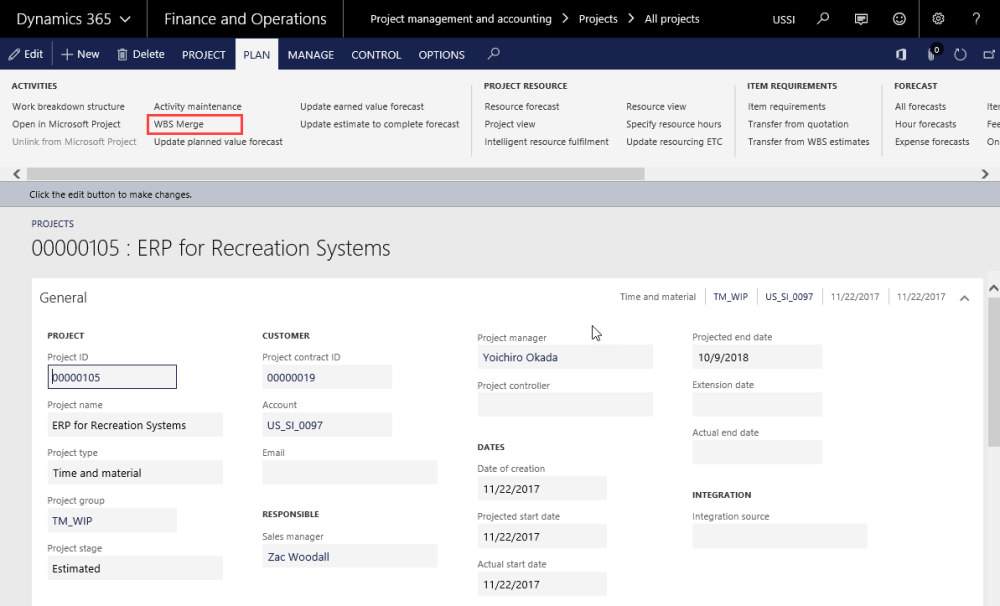 WBS

Merge Form
Project Form
Work Breakdown Structure (WBS) Merge is a new form on the activity maintenance form, which the users can copy parts of a WBS from a project/Quote or Template, into a project or quote Work Breakdown Structure.
WBS Merge is dependent on the Work Breakdown Structure parameter being enabled.
On clicking this button, a new form will be opened "Work Breakdown Structure Merge". This form will open which will have three grids as shown in the below screenshot.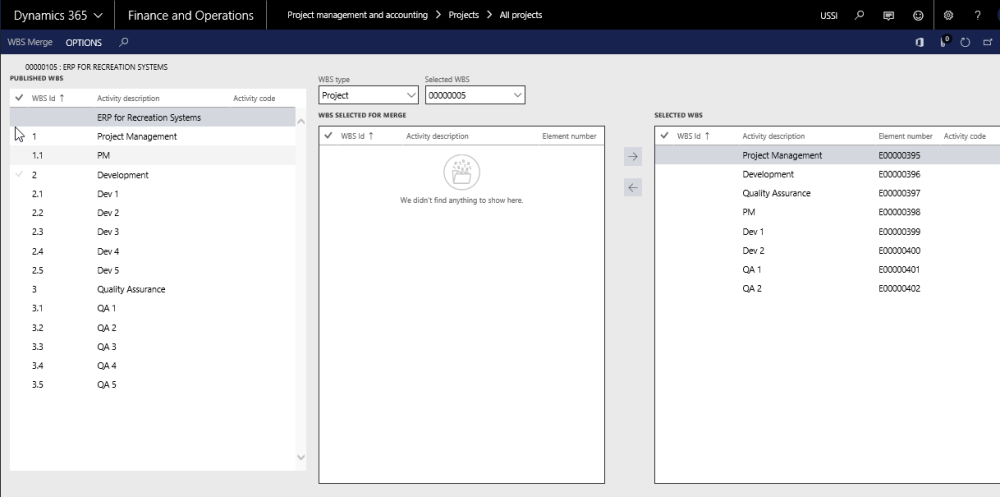 The first grid is the current WBS, which displays the WBS from where this form has been launched, be it a project or project quotation.
The middle grid is the WBS Selection for merge. Here all the WBS that have been selected from merger will be displayed, but only the parent activity level will be displayed though the merge will consider the child levels too.
Above this WBS Selected for merge grid is the choice that you can make to copy from. The options available are Project quotation/Project and Template. Once this value is selected in WBS Type field, the next field "Selected WBS" shows the corresponding values. Choose the project id/quotation ID or template. The WBS of the selected project/quote/template will be displayed in the Selected WBS.
The user can choose parts of WBS at a time and move it over to the WBS Selected Merge grid using the left arrow control. The selected record will be copied along with its child levels to the Current WBS Section.
For example when 2.1 is chosen from the below defined tree, the child levels below it will be copied as well, which is 2.1, 2.1.1 and 2.1.2.
2.1
2.1.1
2.1.2
2.2
2.2.1
2.2.2
2.3
If, the user wants to remove any records from the Selected WBS section then choose the WBS and click on the right arrow control.
To merge the selected WBS from the middle grid, click on the WBS Merge button on top. The records will disappear from Selected WBS grid and get merged into the selected activities to one level below the selected level on the CURRENT WBS Section. However, the merged activities will be displayed after publishing the WBS from the project.
On the project go to Activity break down structure and click on Publish to see the merged WBS.
Project Quotation Form
WBS Merge functionality is available on a project quotation under the Maintain tab and works similar to how it is explained for the project form. Below is the picture shows the WBS merge menu on the project quotation.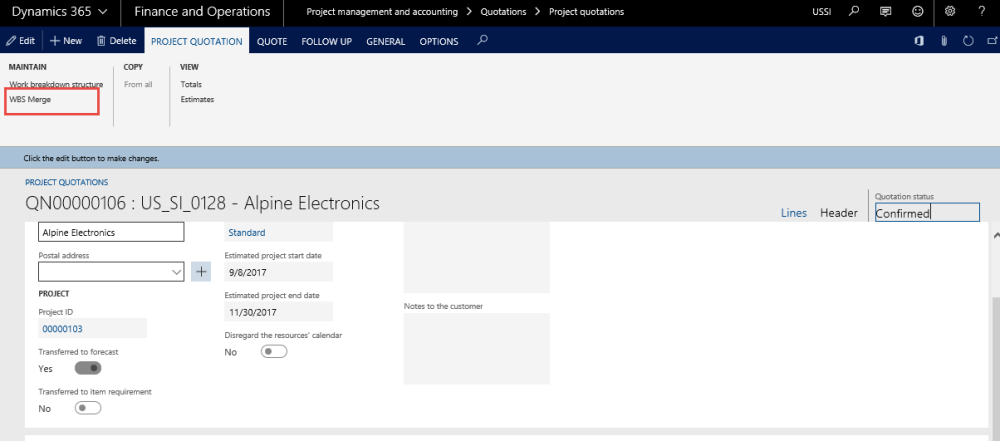 Feedback
Thanks for your feedback.